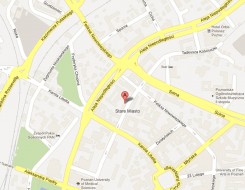 Kosciuszki 107 Office for Hire in Poznan is located strictly in the centre of the city. Working in Poznan city centre is not just great because this part of the town is covered by a modern network of public transportation but because there is so much to do in here. Your office space in Poznan is just a 3 minutes walk to the Boulevard of Freedom in Poznan (Plac Wolnosci), an 8 minutes walk to Old Market Square (Stary Rynek) and a 10 minutes walk to Poznan International Fair. When working from Kosciuszki 107 you are in the centre of nearly everything that really happens in the city: music, exhibitions, night life and shopping are just round the corner.
Getting here:
Poznan is conveniently located on the main route between Berlin and Warsaw. You can come to the city by:
To plan your journey within the agglomeration of Poznan click here.